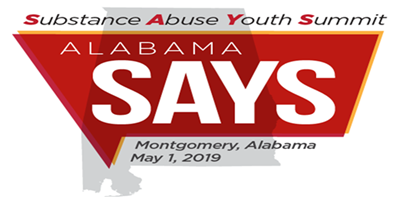 The Alabama Substance Abuse Youth Summit (SAYS) is the first-of-its-kind, one-day conference that will bring together every group, organization, and agency that fights to protect Alabama's children to discuss trends, strategies and long-term solutions to the problems of underage drinking and substance abuse.
In addition to these discussions, attendees will hear from several subject matter experts, including Dr. Bob Brewer, head of the Centers for Disease Control's alcohol program; Jim VanHecke, director of TalkitOutNC.org, North Carolina's anti-underage drinking program; State Superintendent of Education Dr. Eric Mackey, and Dr. Shannon Murphy, a Birmingham pediatrician and recognized expert in child development.
The Alabama SAYS summit will take place at the Renaissance Montgomery Convention Center on Wednesday, May 1, 2019. The program will begin promptly at 9:00 a.m. and end at approximately 3:00 p.m.
To pre-register for the summit, click the button below, fill out the registration form, and then click "Submit." As a Bonus for pre-registering, you will receive a parking pass that provides you with Free parking. Just check the box on the Pre-Registration Form that says, "Require Parking Pass."
Attendees are eligible for Continuing Education Units, Continuing Legal Education credits and Certificates of Attendance.